Sporthorse Mares
Our Sporthorse Mares are hand picked for temperament, conformation and a beautiful head.

When perusing Mare Pedigrees click on the 'Pedigree' link which will take you into the 'Allbreedpedigree' site, once you are in there, click 'Reports' on the top left hand side, scroll down and click on 'Photos' you can then view an amazing selection of images relating to each of the horses pedigree, in some cases dating back to the early 1800's.
Golden Desert
Paddock name 'Coruba'. A beautiful Liver Chestnut mare, 16hh with great conformation and tonnes of chrome (four white socks and large blaze)from the Kashani line.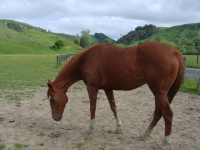 Coruba has an affectionate nature and a lovely 'cool headed' temperament. She has been running with our Clydesdale Stallion 'Danny' for the past 12 months and is due to foal shortly. We are really excited about this coupling.
Back...