Location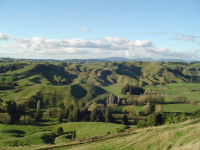 'Aratoro Stud'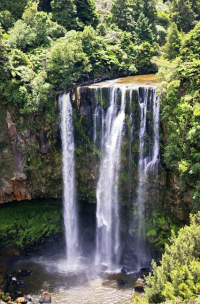 'Omaru Falls'
Aratoro is situated in the heart of the 'King Country', Central North Island. The perfect central location to a raft of local world renowned attractions, such as the 'Waitomo Glow Worm Caves', 'The Lost Valley', 'Blackwater Rafting', all three of these attractions are situated in Waitomo and are only a 40-45 minute drive from the Farmstay Cottage. There is the 'Otorohanga Kiwi House' and Aviary, a 40 minute drive.
The local 'Omaru Falls', also known as the 'Mapiu Falls' (as pictured) a 10 minute drive. Legend has it had that around the Omaru Falls there was a once a great Maori Pa (whose residence were thought to have vacated the area around 1900, once the wild pig population had been exhausted). It is rumoured that behind the Omaru Falls, in caverns within the rock face bares the resting place of many of their people and is sacred ground.

We are the perfect central location to the sought after trout fishing locations 'Taupo' and 'Turangi'. Our thermal and geyser wonder land 'Rotorua' is only an hours drive. 'Mokau beach', 'Kawhia Beach' and 'Matamata' the home of 'Lord of the Rings' are all only an hours drive.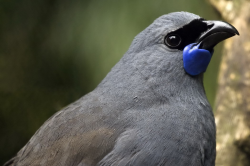 'Mapara Bird Reserve' Preserving the 'Kokako'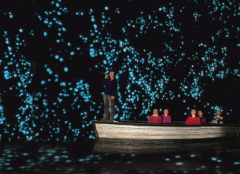 'Waitomo Glow Worm Caves'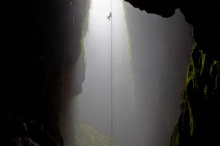 Lost World Waitomo