Clydesdale Breeding
Murrayfield Lord Daniel
Today, the Clydesdale is held in the same very high regard, although for added reasons. Not only does the breed continue to serve as a very useful and practical draught horse, but the Clydesdale also leaves its legacy on the New Zealand sporthorse scene.

Commonly crossed with the Thoroughbred or Arab, the Clydesdale serves as a useful cross in breeding jumpers and sporthorses. As a result we are seeing warmblood-type horses of might and muscle, but with the flair and athleticism required for top level eventing and the demands of the New Zealand hunt fields. Known too for its gentle and easy going nature, the Clydesdale Thoroughbred cross is quickly becoming the horse of choice throughout New Zealand hunt fields and showjumping circuits.

Here at Aratoro Stud, we strive in breeding quality Clydesdale cross sporthorses suited to top level competition. We have taken extreme care in selecting only the best quality breeding stock, and in turn, have been rewarded with high quality youngstock of exceptional temperament and trainability.

Our resident Clydesdale stallion, Murrayfield Lord Daniel, was selected with sporthorse breeding in mind. Sourced through experienced Clydesdale breeders, Nick and Jill van der Sande, 'Danny' comes from a well known New Zealand mare line, boasting generations of top quality, proven work horses. His Dam, Donnybrook Louise, was a top working mare herself, and was sired by Australian-bred horse, Aarunga Duke. Aarunga Duke was bred at the well known Aarunga Clydesdale Stud in Australia before being imported to the Donnybrook Clydesdale Stud, in Nelson, New Zealand. After arriving in New Zealand, he became one of country's most influential Clydesdale sires, and in fact, sire to most of the famous DB Draught Clydesdales.

But it doesn't stop there. Danny also brings another very special aspect to the New Zealand gene pool. His sire, Armageddon Lord Samson, was the first American-bred Clydesdale stallion to be brought to New Zealand (that we know of). The new import meant fresh, new blood that was totally unrelated to anything in this country, and a big step forward for New Zealand Clydesdale breeding. This magnificent black stallion also brought some of the world's best bloodlines to New Zealand, including names like Broadlea Classic Joe and Scotland's Doura Perfection.

Armageddon Lord Samson was bred at the famous Armageddon Clydesdale Stud, in south central Michigan, USA. The stud is internationally known for the excellence of animals produced and was honored as Premier Exhibitor at the National Clydesdale Show for eleven consecutive years.

Samson himself had a fine showing career before embarking on his trip to New Zealand in 2001. As a yearling he was 1st Honorable Mention Yearling Stallion All American Award Winner, and as a two year old he was named Reserve All-American Two Year Old Stallion. During his time in the US, Samson stamped his mark on many of the top studs, leaving world class progeny.

Samson's sire, the well known stallion Broadlea Classic Joe, sire more All American winners than any other Clydesdale stallion, and to our knowledge, he sired eight champions at the National Show.

Samson's dam, Armageddon Mistress Delilah is a great, great grand daughter of the famous Doura Perfection. She boasts an extremely illustrious showing career including the Best Three Year Old Mare Bred and Owned by the Exhibitor at the National Clydesdale Show. Twice Delilah was Reserve All American Aged Mare, and received Honorable Mentions other years.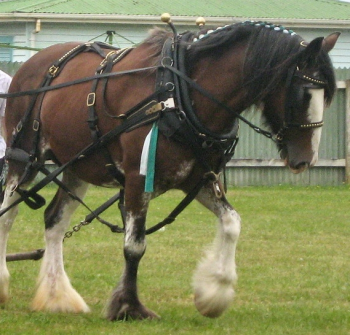 Dannys Dam 'Donnybrook Louise'
Murrayfield Lord Daniel combines the best traits from both lines. He carries the black gene, which has been passed down through generations of breeding black colouring at the Armageddon Stud. This in itself is very rare in the Clydesdale breed, and indeed popular within sporthorse circles. Furthermore, Danny boasts an incredibly laid back, gentle nature, which he is passing on to all of his progeny.

What we are seeing is quality progeny with clean, active movement and the fineness and athleticism required for showjumping, hunting and dressage. Conformation wise, the progeny are naturally uphill, showing natural top lines, a great length of rein and a little more length in the leg, making for a more versatile Clydesdale cross sporthorse.

Already our youngstock are turning heads in sporthorse circles, and we look forward to seeing more of our horses throughout the New Zealand competition circuit.

If you would like to make an appointment to view Murrayfield Lord Daniel, or some of his progeny, please contact Alan or Tracey.

A very special thank you to Samantha van der Sande
for her knowledge of bloodlines and history.