Sporthorse Mares
Our Sporthorse Mares are hand picked for temperament, conformation and a beautiful head.

When perusing Mare Pedigrees click on the 'Pedigree' link which will take you into the 'Allbreedpedigree' site, once you are in there, click 'Reports' on the top left hand side, scroll down and click on 'Photos' you can then view an amazing selection of images relating to each of the horses pedigree, in some cases dating back to the early 1800's.
Sun Shower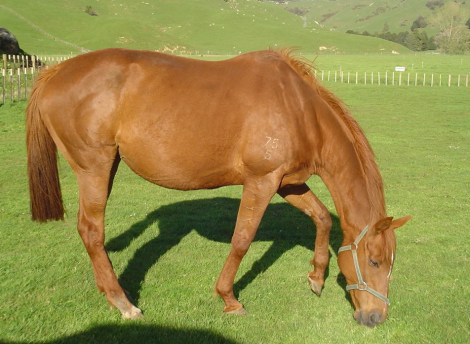 1995 Lovely Chestnut Thoroughbred Mare, by Centro, out of Rain Melody. Paddock name 'Sunny'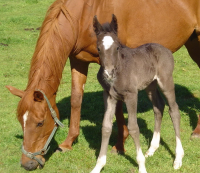 A Gorgeous Mare who produced 2 x stunning foals for us. Unfortunately due to the severity of a leg injuiry, acquired prior to her arrival at Aratoro, we had to make the difficult decision to let her go (the injury had spread to her bone, affecting her internally, we had exhausted all other alternatives). Very, very sad - a really lovely mare and sorely missed. She is listed for pedigree information only. Aratoro Countess Louise (aka Melody) is the foal at foot.
Photo Gallery
Photo Gallery
Back...