Sporthorse Mares
Our Sporthorse Mares are hand picked for temperament, conformation and a beautiful head.

When perusing Mare Pedigrees click on the 'Pedigree' link which will take you into the 'Allbreedpedigree' site, once you are in there, click 'Reports' on the top left hand side, scroll down and click on 'Photos' you can then view an amazing selection of images relating to each of the horses pedigree, in some cases dating back to the early 1800's.
Plain Sailing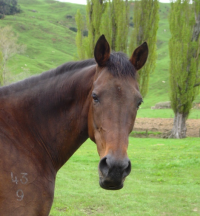 1999 Absolutely stunning Bay thoroughbred mare. Paddock name 'Ginny'.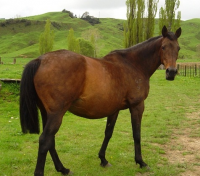 Not only does Ginny have the look, conformation and movement, she has the temperament to match. Ginny is an absolute pleasure in every way. She appears to be passing her on her lovely movement to her progeny. Currently in foal to 'Danny', due any day so keep an eye out on our facebook for updates 'Aratoro Cottage & Farmstay'.
Photo Gallery
Photo Gallery
Back...