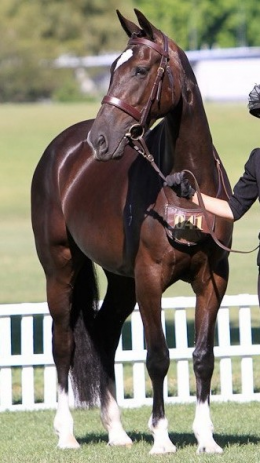 Alan's Sporthorses
Some say it's an art to have a good eye for a horse. But to Te Kuiti farmer Alan Curry, it's just plain horse sense.
(article from Rural Trader 2010)
Alan and his wife Tracey are making a name for themselves and their boutique Sport Horse stud located at 'Aratoro' - their 1100 acre sheep and beef block in Mapara.
With daughters Sophie (15 mths) and Catherine (4 yrs), Alan and Tracey live a busy farming lifestyle, on a property that's been in the Curry family for nearly 100 years. A bush block which was drawn in the ballot by Alan's great, great uncle in 1913, and subsequently developed into farmland, now remains part of the larger Aratoro block.
You could say the rugged Mapara hills south of Te Kuiti are in Alan's blood, therefore it seems only natural he took over the property which had been farmed by his family for generations. But this King Country paradise also provides the perfect breeding ground for New Zealand Sport Horses, and an interesting Haven for the Curry's planned Farm-Stay venture.
Ever so modest Alan just laughs off compliments about his horses, and puts his success down to a simple breeding philosophy, and a willingness to listen to and learn from other experienced breeders.
What makes their stud so special is that Alan is relatively new to horses, and being born and bred on a dry-stock farm, only got into breeding Clydesdale cross Sporthorses when he was on the hunt for a farm hack three years ago.
Wife Tracey, has always been involved with horses and has been breeding Appaloosas for the last five years. She's been a constant source of inspiration and support for Alan, and together, the couple have begun to promote their stud under the banner 'Aratoro'.
The stud is home to nine broodmares, a resident Clydesdale stallion and a string of young stock. Alan is focused on breeding sport horses, and will only use the best Clydesdale and Thoroughbred stock available.
His objectiveness has certainly paid off and the young stock he has bred so far are of an extremely high standard; portraying the archetypal New Zealand Sport Horse.
Alan points out that he was very lucky to receive valuable help and advice from other breeders such as Nick and Jill Van der Sande at Pirongia Clydesdales. His foundation Thoroughbred mares were put to Pirongia Clydesdales' resident Clydesdale stallion, the US import 'Armageddon Lord Samson', which produced two magnificent foals, both of which were sold prior to weaning.
Alan states that Samson was a superb choice for his breeding programme in many ways, first and foremost for temperament and type. The foals are all showing the same amazing, sensible temperaments, and more athletic, leggy types than the traditionally smaller New Zealand Clydesdales.
Alan was so impressed by the first crop of foals he made inquiries about purchasing a purebred colt by Samson. As it happens, Nick and Jill were selling a quality yearling colt by Samson on behalf of another breeder, and suggested Alan should take a look.
Once again, Alan was impressed by what he saw, and particularly taken by the black colt's extremely laid back and gentle nature. With an impressive dam line, the colt would make a fantastic addition to any Clydesdale or sport horse breeding programme and therefore it was without hesitation Alan agreed to purchase the colt.
Now standing close to 17H, the colt named "Murrayfield Lord Daniel" is three years old, and already has a number of foals on the ground. Known around home as 'Danny', the colt has developed a reputation as 'a big softie', and leaves an impression on all who meet him.
Alan states that Danny is stamping an incredibly sensible temperament on all of his foals and adds "they [the foals] are all extremely easy to handle and quick learners too".
Of course the temperament and type of the mares is extremely important, and Alan is particularly selective choosing only the best natured mares to breed from.
Combined with fluidity in movement and correct conformation, Alan's young stock are proving to be decent sized, athletic types ideal for all aspects of New Zealand ridden competition.
With an increasing demand for black Clydesdale cross sport horses, Alan's struck a niche market. Danny's black colouring is rare in the Clydesdale breed, but stretches back generations on his sire's side and therefore is showing in most of his foals. But colouring aside, I notice there's a common thread as I walk through the Curry's paddocks: the perfect knee high stockings displayed by every foal scream an unmistakably Clydesdale trait!
But long stockings and excess chrome are not the only characteristics found at Aratoro, and in the next paddock over from Alan's young stock, there's a bunch of spotty horses keen to receive a scratch from passersby.
Back...